Vehicles with Amber Flashing Lights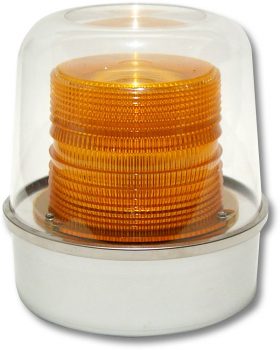 Amber flashing lights are often seen on emergency personnel vehicles such as those used for work on the road, including construction vehicles and tow trucks. In some cases, vehicles with amber flashing lights can also be found in outdoor factories, airports, and other fields where a high amount of safety and visibility is necessary. Emergency workers have also been known to install them on their vehicles for purposes such as directing traffic.
Amber lights are one of the most popular types of emergency lighting due to the limited number of regulations around the color. In general, amber lighting can be used alone or together with other colors, providing that they comply with laws in your area.
With emergency lighting, it's important to note that all vehicles that use these types of lights are strictly regulated. While everyone – including private citizens – can buy emergency lighting, not everyone is allowed to equip their vehicle with one. That means in some cases, your vehicle may not be eligible for amber emergency lighting. Or, if it is, you may be required to install the lights in a particular way as well as ensure it meets certain safety and performance standards. Fortunately, vehicles with amber flashing lights typically aren't as distracting as flashing blue or red lighting and thus the color amber is subjected to much less regulation and legal requirements when compared to brighter colors.
If you're planning on equipping your vehicle with amber lighting, be sure to review local, state, and federal laws in your area. In some instances, your lights may need to meet standardized specifications before you're permitted to use them, so staying informed about emergency lighting laws in your jurisdiction is important. Understanding these laws can help ensure your vehicle remains compliant as well as protect you from fines.
Amber lighting is available in various form factors including beacons, mini lightbars, full-size lightbars, strobe, dash, and more. In general, most lights will also include the necessary mounting bracket and accessories needed to attach them to your vehicle. If you're not sure, please review the product specifications to ensure the light is compatible with your vehicle. Lighting in this color can help alert nearby pedestrians and drivers of potential hazards and urge them to slow down as well as drive cautiously.
In addition, most amber lights are now produced using LED technology, otherwise known as a light-emitting diode. LED lights are extremely efficient and can produce brighter lighting at a fraction of the energy cost of other types of standard lighting. Furthermore, LED lights do not easily burn out, giving them a longer lifespan when compared to some other types of emergency lights. LED technology also tends to produce significantly less heat, making them a safer option.