About Star Lighting Products, Inc.®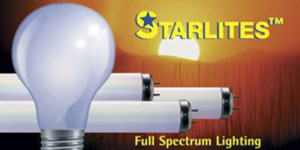 Since Star Lighting Products® first began operations in 1980 with Michael and Margaret Dolan, our company has strived to meet or exceed the expectations of our customers with quality products and services. We have provided clients with high quality lighting solutions for a wide variety of applications from Hollywood studios to pet stores.
From our traditional incandescent lamps to our specialty traffic/sign lamps and our Starlite line of highest quality full-spectrum fluorescents, Star Lighting is committed to lighting technologies and service. If the bulb you are looking for has ever been manufactured, we can get it.
We have received an outstanding reputation for Customer Service, Technical Support and Worldwide Distribution. Together with our valued partners, we provide our customers with quality products at competitive prices and with exceptional customer service.
We stand above our competitors with our philosophy that providing customers with what they need, when they need it, will create the loyalty to keep them coming back.
Order Form
Print and fax for easy ordering!
Orders may be faxed 24 hours a day, 7 days a week to: (216) 433-7506.
Starlite® Full Spectrum
Full-spectrum fluorescent lamps
Learn more about the many benefits of our exclusive Starlite® products.
Lighting Articles & Info
Everything to know about lighting.
Browse our collection of informative & educational lighting-related articles.